Photography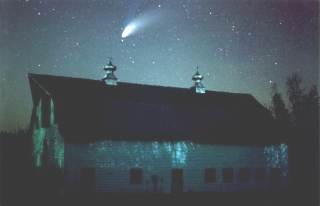 Comet Hale-Bopp over the Barn at the Ivy Creek Natural Area
Posters are available.
Photos of Pleasant Grove Baptist Church, Earlysville, VA
Autumn foliage on a gorgeous October day in Staunton, VA, 1997
A Purple Passionflower in Riverview Park
See an unusual
photo
I took which was published in the
February 15, 2000
Cville Weekly
Explain the Phenomenon
One of my nature photos was published on page 32 of the
March/April 2001 issue of Natural Home Magazine .
This issue focused on Charlottesville.