| | |
| --- | --- |
| Quarry Park | |
The 9.1 acre Quarry Park is located off of Monticello Avenue/Route 20 South on Quarry Road at the southern edge of the city. There are two Little League baseball fields and a concession stand with restrooms. Off-street parking is also provided. The park has views of the nearby mountains and derives its name from the road that once led to an old stone quarry.

Quarry Park is part of the Rivanna Trail, a system of foot trails in and around the City and maintained by the non-profit Rivanna Trails Foundation.

Dogs must be on leash and under control. City code requires dog owners to clean up feces of dogs in their care; a plastic bag dispenser/waste receptable is provided for cleaning up dog waste. Failure to abide by the leash law and dog feces cleanup law is a Class 4 misdemeanor.

The Park is open 6AM to 9PM.
One of the ball fields at Quarry Park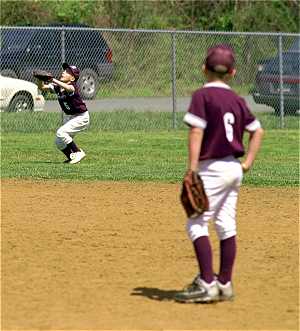 A game of Little League
Photo of footbridge built by Rivanna Trails Foundation at Quarry Park
Revised 1/16/02 by Stowe Keller

DISCLAIMER

Charlottesville City Home Page