| | |
| --- | --- |
| McGuffey Park | |
This delightful little park of 1.1 acres sits atop a hill next to the McGuffey Art Center at Second Street N.W. and Jefferson Street (location). In 1945, this land was donated by the City to the Charlottesville School Board; in 1974, the School Board gave the land and adjoining school back to the city as a gift to become the McGuffey Art Center and to form McGuffey Park. Park facilities include half-court basketball, playground and benches.

Dogs must be on leash and under control. City code requires dog owners to clean up feces of dogs in their care; a plastic bag dispenser/waste receptable is provided for cleaning up dog waste. Failure to abide by the leash law and dog feces cleanup law is a Class 4 misdemeanor.

Parking is available on the street. The park is open 6AM to 9PM.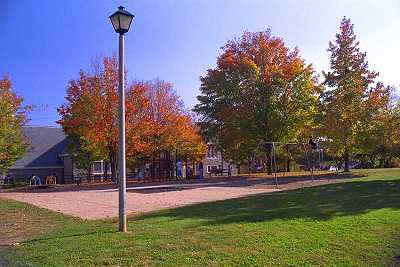 McGuffey Park
Map and directions | Status | Parks and Grounds Home
Photos of McGuffey Park
(contains large files, may take a while to load)
Revised 1/16/02 by Stowe Keller

DISCLAIMER

Charlottesville City Home Page