| | |
| --- | --- |
| Lee Park | |
Lee Park contains all of the land bounded by Jefferson Street, First Street N.E., Market Street and Second Street N.E. (location). The land was donated to the City by Paul Goodloe McIntire in memory of his parents in 1917 to be used as a public park. Dominating the park at its highest point stands an imposing equestrian monument to Robert E. Lee. The statue was conceived by Henry M. Shrady, completed by Leo Lentelli, and presented by Mr. McIntire to the City in 1924. The 1.04 acres of raised land provides a pleasant lunchtime oasis in the downtown area, with many benches, a number of checker/chess tables, and colorful flowers and shrubbery. For more on the history and gardens of this park, click here.

Dogs must be on leash and under control. City code requires dog owners to clean up feces of dogs in their care; a plastic bag dispenser/waste receptable is provided for cleaning up dog waste. Failure to abide by the leash law and feces cleanup law is a Class 4 misdemeanor.

Lee Park, as well as Jackson Park, are part of the Virginia Civil War Trails. Both parks also host the annual Governor Jefferson's Thanksgiving Festival with Revolutionary era re-enactments and displays.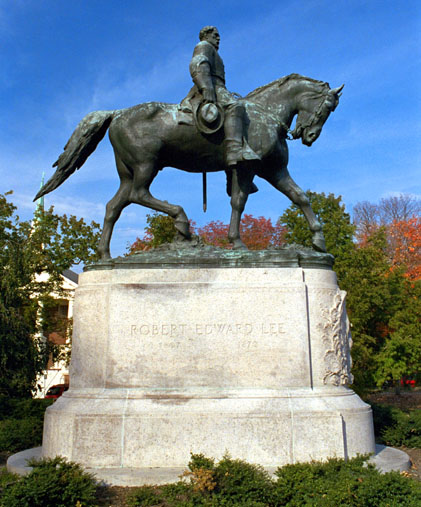 Statue of Robert E. Lee, Lee Park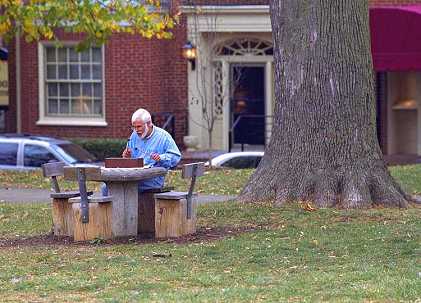 Musician in Lee Park
Map and directions | History and Gardens | Status | Parks and Grounds Home
Revised 1/16/02 by Stowe Keller

DISCLAIMER

Charlottesville City Home Page