| | |
| --- | --- |
| Greenleaf Park | |
Greenleaf Park consists of 14 acres of grassy hillsides with hardwood and evergreen trees in a fenced-in area. The land was part of McIntire Park until the construction of Route 250 Bypass cut it off from the rest of the park. At that time it became a neighborhood park with its own identity.

Greenleaf offers a playground area, summertime spray shower, a picnic shelter with restrooms, and a half-basketball court. An Interpretive Trail Guide is available at the brochure box to help you identify trees.

Dogs must be on leash and under control. City code requires dog owners to clean up feces of dogs in their care; a plastic bag dispenser/waste receptable is provided for cleaning up dog waste. Failure to abide by the leash law and dog feces cleanup law is a Class 4 misdemeanor.

Park hours are 6AM to 9PM. It is located on Rose Hill Drive at Greenleaf Lane and off-street parking is provided.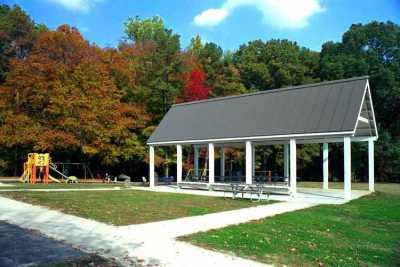 Playground and shelter at Greenleaf Park
Map and directions | Interpretive Trail Guide | Status | Parks and Grounds Home
Photos of Greenleaf Park
(contains large files, may take a while to load)
Revised 01/16/02 by Stowe Keller

DISCLAIMER

Charlottesville City Home Page