| | |
| --- | --- |
| Greenbrier Park | |
Greenbrier Park consists of 28.3 acres of undeveloped area located in the Greenbrier neighborhood with walking/biking trails along Meadow Creek. Enjoy the view of sycamore groves, a meadow and Greenbrier Marsh, believed to be one of only two such natural marshes in the Virginia Piedmont region. A footbridge spans the creek; many neighborhood school children use this footbridge to walk to Greenbrier School.

Greenbrier Park was deeded to the City by the Greenbrier Corporation in 1965. The park is part of the Rivanna Trail system, a set of trails in and around the city maintained by the non-profit Rivanna Trails Foundation.

Dogs must be on leash and under control. City code requires dog owners to clean up feces of dogs in their care; a plastic bag dispenser/waste receptable is provided for cleaning up dog waste. Failure to abide by the leash law and dog feces cleanup law is a Class 4 misdemeanor.

The park is open 6AM to 9PM. Parking is available on nearby streets.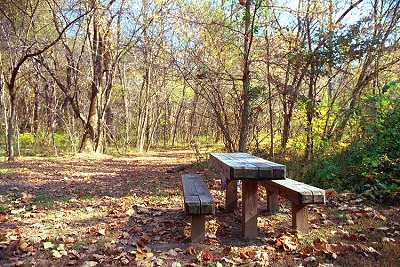 Trail and picnic table at Greenbrier Park
Map and directions | Status| Parks and Grounds Home
Photos of Greenbrier Park
(contains large files, may take a while to load)
Revised 1/16/02 by Stowe Keller

DISCLAIMER

Charlottesville City Home Page