| | |
| --- | --- |
| Maplewood Cemetery | |
Maplewood Cemetery is one of two public cemeteries maintained by the city, the other being Oakwood Cemetery. Other cemeteries in the area are privately owned. Internments began in 1777.

Maplewood Cemetery is a peaceful oasis of green nestled within the Martha Jefferson neighborhood (map). The cemetery is bordered by Lexington Avenue, Maple Street, 8th Street, and Kelly Avenue. Maplewood Cemetery contains the final resting places of many prominent Charlottesville residents, including Paul McIntire, a prominent benefactor of the City of Charlottesville. Maplewood is visited by hundreds of people each year during the annual Spirit Walk, a walking tour of downtown by volunteers from the Albemarle Charlottesville Historical Society that celebrates the history of Charlottesville. The cemetery is open daily, and is a lovely place to take a quiet stroll. The gravestones offer a glimpse not only of our history, but serve as well to celebrate the lives of the family, friends and neighbors who came before us.

The cemetery is open 7AM to 8PM.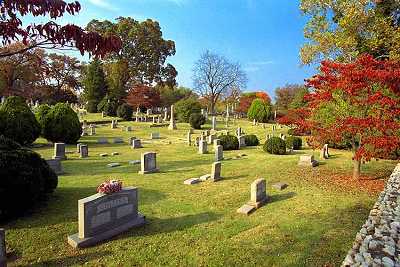 Maplewood Cemetery


Revised 1/11/02 by Stowe Keller

DISCLAIMER

Charlottesville City Home Page